What is this "Pilot School Online" all about?
You need to go through two stages in your Aviation School to become a commercial pilot. The first stage of pilot training is an intensive "pilot ground school" and your "flight training lesson" comes in the second stage. Student pilots must understand all the theories involved in actual flying in order to start their flying lessons and You must also pass theoretical and practical knowledge tests by the Civil Aviation authority of the country. Without having good knowledge, you won't be able to master flying skills efficiently to become a safe , competent pilot. The theory of ground school is very important and seems difficult to many beginner student pilots compared to their actual lessons in flight training.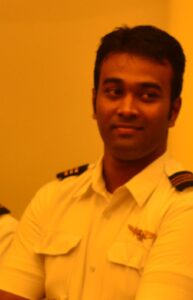 This "Pilot School Online" was founded by Capt. Anwar Parvez to provide a general guidance to new aspiring pilots who wish to learn online before entering a flying school. With new lessons added by posting weekly basis, we will continue to grow this web site. Just keep yourselves updated every week to find new articles here. There will be many blogs about relevant topics to Aviation which seems most likely to be important and easy for all new learners to understand. Most Aviation Academy usually have accelerated training program and also a very busy schedule. Getting ready by learning ahead of time could benefit you in your actual flight training and shall make you more flexible once you decide to take admission in an Aviation academy. The contents of this website will significantly help you to prepare for intensive pilot training course before you start your training.
What is "Online Pilot Ground School"?
This online pilot Ground school is a self-study program for all aspiring pilots. Whenever you like, you can read articles about various topics related to aviation in this site and study by yourself; all you need just internet in your phone. For complicated topics, I will use presentation with actual videos and sounds.
Why should I use this Online Pilot ground school?
There are a few pilot ground training courses online. But most of them are not complete and come with demos only. Some online training courses ask for a payment ranging from $400 USD to $2500 USD. So, this website can be a great deal for some student pilots because it is free! The materials I use here are well proven and found very effective for pilot ground school reference.
How can I ask questions?
You simply need to sign up with us and we will send you email if you have questions.